Most couples have concerns about intimacy and sex in their relationships.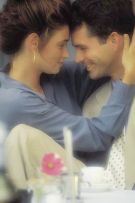 Relationships change over time. Most of the time, the changes happen slowly, almost imperceptibly. Many people seem to wake up one day to find something has changed in the relationship, something is different in the way they are communicating with each other, something has changed in their sex life.
Sometimes, the relationship changes more suddenly, and there may be a more urgent need to find out what happened, what has changed, what is going on.
For many couples, there may have been no real change at all – it's just become more and more difficult for one or both of them to live a life without a deep and satisfying intimate and sexual relationship.
It can be difficult for a couple to maintain and nurture a satisfying intimate relationship. It can be almost impossible for a couple to figure out and fix the problem on their own. And it doesn't get any easier as a couple grows older -- unfulfilled needs have a way of growing, not subsiding, and patience seems to diminish over time.
Some people end their relationship in hope of finding intimacy somewhere else. Others stay in the relationship and pursue affairs. Still others simply give up, and resign themselves to a life without the intimacy they want and need.
None of these seem like acceptable alternatives to me.
Come in and let's talk about it. I'm here to help.