I see so many women, men, and couples who have just about given up on their marriages.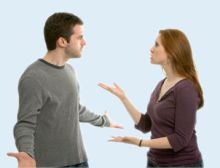 Most of them have really tried to fix things. They've talked with each other about it. They've argued. They've gone for weeks and months silently enduring it. They've bought books, maybe even tried counseling. But the problems won't just go away, and things aren't getting any better.
You don't want to give up, don't want to go the divorce route like so many others. But you know you can't live like this forever.
Before you do anything else, come in and let's talk about it.

I'm here to help.
Figuring out what's really going on in your marriage should be simple, but it's not. Marriage problems don't just suddenly appear -- they grow slowly over time, the product of small resentments and miscommunications that grow into a thick web that's very difficult to untangle on your own. That's where talking to the right professional can really help.
When we talk, we'll quickly target the root of the problem. We'll help you figure out exactly what is going on in your marriage, and why.
Understanding alone won't fix things, but it will open up solutions you weren't aware of before. Once the confusion is gone, that awful feeling of being "stuck" is gone, too. You'll be moving forward. Change can still be difficult - it almost always is - but we will be there to guide you, every step of the way.
Don't put it off any longer. Call now to set up a confidential appointment for the two of you, or just for you. Either way, you'll find I'm really easy to talk to.